Garden And Deck Decoration: Tips To Maintain Them
Having the deck and garden well-maintained generally results in you having to spend more time than it first appears. The reward is that you are very grateful to take good care of it. Cleaning the deck and garden means, among other things, having the drain grids clean of the land that the rain drags and deposits on them, not having branches or fallen leaves on the ground, that there are no spider webs on your plants, having tile joints with joint mortar in good condition. These are some of the many tasks you can do to keep it in good condition. 
A deck with a landscaped corner
This image conveys a deck with proper order and cleanliness. To get to this, you have to eliminate all those things that have been depositing in the yard, such as pots that have not had soil or plants for many years, disused bicycles, but that you have there for a day repair, cans of paint half-finished. By listing some of the possible objects that you may want to get rid of. In short, throw away what does not serve and order what can come to serve.
A soil without leaves
If you want to have a clean and neat corner like this, it is quite evident that you have to take a broom and dustpan and sweep it conscientiously, it is not worth the repeated phrase of it is not worth doing it thoroughly because it will re-fill with leaves right away. A thorough sweep involves not only removing fallen leaves but also branches, butts, plastic bottles, in short, a large number of elements that dirty and deteriorate your deck or garden.
Cleaning the deck flooring
When you consider that the day has come to thoroughly clean the flooring of the ceramic tiles in the deck, a task that you previously assigned to rainwater, you will have to take a root brush and use vinegar dissolved in the cleaning solution that you usually use and with the help of the brush, rubbing on the dirt will make it disappear.
Details are an important part of the whole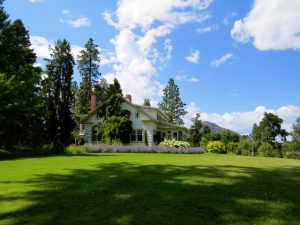 To get this lawn, before using the lawnmower, you have to pass a rake to remove the pebbles that may be lodged in it, and that can damage the machine. Once you have passed the mower, you have to go through the rake again to remove the grass or cut grass that the machine has not carried in its mower and has fallen to the ground. Just as you regularly clean inside your house, you should regularly clean it in your deck or garden. 
Safety equipment to clean the deck or garden
No doubt cleaning the exterior of the house is more arduous or heavy than cleaning the house's interior. To clean the deck or garden, we will use a knife, a masonry, or painter's spatula, chemical products for possible pests of mosquitoes, ants, or cockroaches. Not forgetting natural herbicides to eliminate weeds from taking root. Therefore it is advisable to use the appropriate safety equipment such as protective glasses if you are going to mow the lawn and gloves that will protect your hands from possible cuts. If you do not dare to do it, you can only resort to a gardener or expert's help.